Why focus on character education?
At CASA Academy, we believe it is not enough for CASA scholars to be smart; our scholars must also exhibit the character traits necessary for them to succeed in the real world. Throughout their education at CASA Academy, scholars learn the values of respect, responsibility, perseverance, integrity, empowerment, and enthusiasm as the guiding forces that shape their everyday actions.
CASA Academy's core values are chosen carefully to guide scholars' character development and to ensure they are on the path to college. This character education ensures that CASA Academy graduates, who predominantly come from at-risk communities, will enter society with the academic and social skills necessary to succeed in life.
How does CASA Academy incorporate character into its curriculum?
Explicit Lessons
Scholars begin every day with Morning Motivation, a time when we explicitly focus on character development and the social-emotional needs of our scholars. During this time, we discuss topics such as empathy, using positive social actions, managing anger, and how to persevere through challenges. Morning Motivation occurs in grade level bands (K-2, 3-4, and 5-6) and is facilitated by our school leaders.
Morning Meeting & Homeroom
At the start of every day, K-5 CASA scholars engage in a classroom morning meeting that is based on The Morning Meeting Book by Roxann Kriete. During this time, scholars greet their classmates by name, share information about themselves, and participate in a group activity that helps scholars learn to work together as a team. These meetings "promote a climate of trust, academic growth, and positive behavior" in the classroom and set a positive tone for the day to come. Middle school scholars participate in a homeroom block every morning where they get to know one another and build a strong classroom community.
Community Circle
At the end of each school day, CASA scholars gather together to reflect on their day as a community; during this time, scholars share both positives and areas of growth for the day and discuss how they can make tomorrow even better.
Community Meeting
Every Friday morning, the entire school gathers for a weekly pep rally to celebrate learning and positive character traits. During this time, scholars proudly say their classroom college chants, refine academic and social skills, and are recognized and awarded for showing qualities such as compassion and respect on campus.
High Five Friday (K-2) and
Fun Friday (3-6)
On Friday afternoons, the entire school gathers again for a weekly celebration of core values on campus. Each staff member "shouts out" specific scholars on campus who have demonstrated respect, responsibility, perseverance, integrity, empowerment or enthusiasm. Each of these "shout outs" includes a specific example of how the scholar showed a core value. We finish the week with a dance party or fun time to hang out and enjoy snacks with our friends to celebrate smart choices made over the course of the week!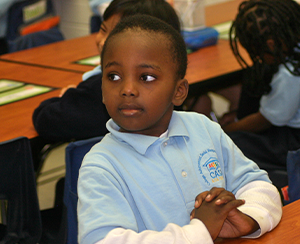 Visit our brand new campus, meet some of our faculty, and see firsthand why CASA Academy is the best place for your children to receive a high-performance education that will prepare them for college!
College. Achievement. Social Responsibility. Authenticity.