At CASA Academy, we recognized a significant gap in educational opportunities for low-income students in Phoenix. While Arizona boasts some high-performing schools, their reach seldom extends to underserved communities, especially at the elementary level. It is our unwavering commitment to bridge this gap by providing an achievement-focused charter school that equips our youngest learners with an exceptional education. We believe in empowering them to succeed not just in college but also in life and society.
We set an early foundation for future college and career success.
Before CASA opened, students in CASA's community did not have the opportunity to attend a high performing elementary school. CASA Academy seeks to fill that void and dramatically change the life trajectory of the community's youngest students by ensuring they are on the path to graduation from college beginning in kindergarten.
We provide a transformative education.
Research shows that students who do not read proficiently by third grade are four times more likely to drop out of school than students who read on grade level. CASA Academy seeks to significantly alter the life paths of students in our community by providing an excellent education from the earliest grades to set scholars up to attend and graduate from high school and college. Our education is transformative because it changes the life trajectory of each scholar, equipping them with the academic and character skills they will need to succeed.
Our scholars persevere in the face of challenges.
By ensuring that scholars are academically proficient or excelling, are critical thinkers, and possess strong character traits, CASA Academy sets scholars up for success. When scholars leave CASA Academy, they will have developed the grit necessary to persevere in the face of challenges. This grit will equip scholars to successfully complete their academic journey, all the way through college, and will allow them to become citizens who contribute to their communities as leaders.
See first-hand from our scholars and staff why CASA Academy is a great school for your scholar!
We believe it is not enough to simply educate a child in the core academic areas. CASA scholars must also develop the character traits necessary to succeed in life. Beginning in kindergarten and continuing through every grade level, we nurture these traits in our scholars by explicitly teaching them, by frequently discussing our values, by modeling them as educators, and by encouraging scholars as they grow in these traits.
Respect
We honor the beliefs of others and treat others with kindness.
Responsibility
We are accountable for our actions and our work.
Integrity
We do the right thing even if no one is watching.
Perseverance
We work relentlessly to accomplish our goals.
Empowerment
We take ownership of our decisions, successes, and setbacks.
Enthusiasm
We approach life with passion, energy, and excitement.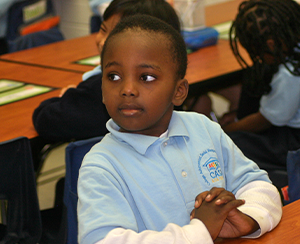 In 2012, Jenna Leahy and Tacey Clayton Cundy met and immediately connected over the injustice they witnessed in their classrooms — even in the primary grades, students from low-income communities were not progressing at the same rate as their higher-income peers. Unfortunately, their experiences were not unique: on average, low-income students are already two years behind by the time they reach the fourth grade.
They decided to join forces, driven by a common mission—to raise the bar for education in Arizona. Their drive and persistence resulted in more than $950,000 in start-up funding. Together, they visited more than 50 of the top-performing schools across the country to learn best practices before submitting their charter application, which was unanimously approved in January of 2014.
After months of knocking on neighborhood doors to get to know the community, they opened CASA with a record number of scholars in August 2014. Their vision, founding a school that overcomes the inequalities they experienced in the elementary grades, is today a reality. CASA Academy is a tuition-free charter school dedicated to closing the achievement gap for elementary students in Phoenix.
CASA is part of the New Schools for Phoenix incubator program, a highly selective and competitive non-profit program devoted to expanding educational opportunities for all students throughout Arizona. At CASA, 100% percent of scholars qualify for free and reduced-price lunch, the national indicator of poverty; 65% are English Language Learners and 97% of scholars are students of color.
CASA Academy is not just a school, but a movement to raise the bar for education in Central Phoenix. Through a combination of rigorous academics, a college-bound culture, competitively selected teachers, and an extended school-day, CASA aims to support all of its scholars in making more than a year of growth in a single year. From the start of kindergarten, our scholars are on a path to success in college and beyond.
Visit our brand new campus, meet some of our faculty, and see firsthand why CASA Academy is the best place for your children to receive a high-performance education that will prepare them for college!
College. Achievement. Social Responsibility. Authenticity.