Enrollment
If you are ready for your child to begin the pathway to college at CASA Academy, please fill out the Intent to Enroll form below. A member of our student recruitment team will call you to schedule a school tour so you can see our beautiful campus, ask questions, and learn more about joining the CASA Academy community. After the tour, you can complete an enrollment packet, and your scholar will be ready to begin a transformative education!
Enroll Your Scholar
Please fill out the form below and a staff member will contact you shortly. Please note that filling this form out does not mean your child is enrolled at CASA.
See what a day in the life of a CASA scholar looks like!
CASA Academy offers a nurturing small community where children thrive individually, engaging in active classroom participation and weekly gatherings to instill core values. Scholars are immersed in a college-bound culture from kindergarten, fostering academic excellence and resilience while also developing essential character traits for future success.
Community
CASA Academy is a small community where your child will be individually known and cared for. School leaders greet scholars by name as they arrive each morning. Teachers begin each school day with a morning meeting, allowing scholars to be active members of their classroom community and to develop interpersonal skills. Every Friday, scholars gather for a school-wide community meeting, where they join in the CASA chant and recall the CASA core values. At CASA Academy, teachers and scholars work together in joyful community to grow every day, and to celebrate progress along the way.
College-Bound Culture
Scholars at CASA Academy are reminded daily that they are on the road to college, beginning in kindergarten. Each classroom has its own college chant that scholars sing at the start of the day and at school-wide community meetings. Teachers provide rigorous instruction to ensure that all scholars are on or above grade level at the end of the year to keep scholars on-track to attend college. Scholars work hard, growing in academic skills and developing the perseverance and grit they will need to succeed in college and beyond.
Character
In addition to academic skills, CASA Academy develops the character traits scholars will need for success in college and in life, from shaking hands firmly and disagreeing politely to growing in honesty and perseverance. Through its excellent character development program, CASA Academy is shaping future leaders of our community.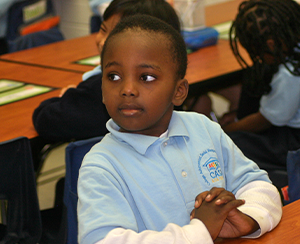 Monday
7:35 am to 3:25 pm
Tuesday
7:35 am to 3:25 pm
Wednesday
7:35 am to 3:25 pm
Thursday
7:35 am to 12:50 pm
Friday
7:35 am to 3:25 pm
Monday
3:30 pm to 5:00 pm
Tuesday
3:30 pm to 5:00 pm
Wednesday
3:30 pm to 5:00 pm
Thursday
1:00 pm to 5:00 pm
Friday
3:30 pm to 5:00 pm
Free Transportation
CASA Academy provides FREE transportation to all scholars who are interested. Please contact CASA's main office if you are interested in having your child ride the school bus. Main Office: (602) 892-5022
Tuition-Free
CASA Academy is a tuition-free charter school. There is no cost to attend.
Uniforms
The uniform is an important part of our model as it is a visual reminder of the high expectations we hold for scholars. When scholars look their best, they feel their best. When scholars feel their best, they do their best learning, and that is what we strive for every day!
Visit our brand new campus, meet some of our faculty, and see firsthand why CASA Academy is the best place for your children to receive a high-performance education that will prepare them for college!
College. Achievement. Social Responsibility. Authenticity.